Transitional Shelters designed using ARCHICAD
Syrian refugees find temporary shelter in earth-bag houses
Background
The United Nations High Commissioner for Refugees (UNHCR) has launched a test project for temporary shelters made from bags filled with earth in Syria. The architect, Anas Aljbain, is using ARCHICAD to develop the designs.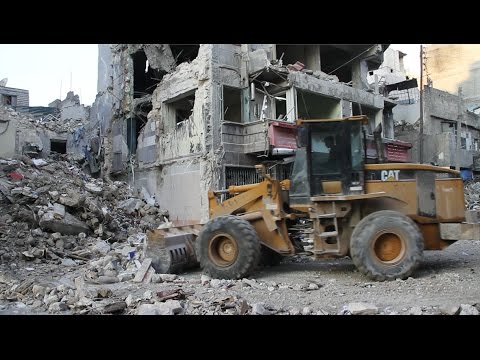 Video presentation of the design and building process made by the B1M. Read their article here.
Project name: Transitional shelter option / Earth-bag test
Location: Syria
Size: 44 m2/473 ft2
Designed using ARCHICAD
Transitional Shelter designed in ARCHICAD

Constructed using bags filled with earth, this type of transitional shelter gives the beneficiaries involved an opportunity to work and earn an income -- which could also stimulate the start of small business opportunities. Earth-bag house construction is an efficient way to solve the need for basic homes that can be built within a short period of time. Furthermore, the earth-bag house construction system does not require a deep knowledge of construction and can be built by the people who will live in them. Earth is the most fundamental element of earth-bag construction, with many types of earth available around the world. Simple and easy tests can be done manually to decide the methodology of construction using the earth-bag system. An optimal, packed earthto soil ratio is approximately 30% clay to 70% sand.
Shelter design in ARCHICAD
Design concept
Opened-to-Patio-blocks design takes environmental and social norms into consideration. The patio spaces in the heart of each block provide safe-to-play areas for children and a good ventilation and cooling system, along with the green areas.
The WASH blocks are separate but with kitchenettes inside the houses. Each family will have one space that includes a toilet and bathroom. This design will reduce the significant cost of WASH infrastructure, making maintenance easier and insuring proper hygiene for users.
Cost
He estimated the cost per square meter is 12,500 SYP (US$41). By attaching the houses side-by-side, each house (51 squaremeters/549 square feet including walls) will cost approximately US$1,850. The total cost per block is approximately US$ 13,000. The wash unit will cost an additional US$3,000.
Shelter Construction
"Providing cheap architecture for poor people has always been my dream,"Anas Aljbain, architect
The use of the earth-bag house construction system is a simple tool to adopt a Cash-for-Work implementation of an emergency collective shelter, as the labor costs in this construction system are a significant part of the cost estimate. Seven unskilled laborers can finish the 44 sqm/473 square feet house, including finishing, in about 2 weeks. This estimated time can be decreased when people have construction skills.
Advantages
Compared to tents, the earth-bag house has many advantages without being a permanent construction; they can easily be dismantled and the materials can be re-purposed. The transitional shelters consist of two rooms and a kitchenette. The benefits of this type of transitional shelter are many. The earth-bag houses are:
Left: A team of six skilled labors can finish the house, without finishes, in 4 days. Right: Finishing
Easy to learn and user-friendly – the simplicity of an earthbag building makes them easy to build by unskilled people or communities;
Strength - an earth-bag wall is extremely strong, owing to its thickness and weight, thus is considerably more resistant to high winds or other destructive forces (earthquake, flood, etc.);
Adaptable – it is easy to alter the position of wall openings during construction, or to dismantle an incorrectly placed wall and subsequently rebuild it with the very same material. Services – plumbing, electrical and other services can easily be fixed to the earth-bag wall.
Safety – there are no piles of bricks on site that may be subject to theft, just the bags, which are easily secured, and a pile of earth, which has no value. Furthermore, the earth-bag house has an excellent fire resistance, is bullet- and to a certain extent mortar proof;
Remote locations – as mainly the bags need to be transported to the site, an earth-bag building can be erected at remote sites.
Challenges
One of the major challenges was a general acceptance of the concept, especially given that there exists a developed, traditional construction method; it was difficult for others to imagine the possible quality of the end product. ARCHICAD offered visual feedback from the early stages to show the possible aesthetic result of using such a basic method of construction.
In addition, significant effort was needed to manage the team, based on the fact that they are, for the most part, unskilled people; it was very effective to use methods like 3D documentation to explain the desired details and results rather than using traditional documentation that might be difficult to read by unskilled workers.
Anas Aljbain, the architect, received valuable technical support from GRAPHISOFT's regional partner in the MENA region, BIMES. In addition, given the nature of the project, BIMES was instrumental in securing an NFR ARCHICAD license for Anas.
GRAPHISOFT and ARCHICAD are registered trademarks of GRAPHISOFT. All other trademarks are property of their respective owners.
About UNHCR Syria
The 2015 Syrian shelter response proposes life-saving and sustaining emergency response, as well as resilient approaches and stakeholder capacity-enhancement components. As of July 2015, one of the activity lines that is to be adopted in the near future is: Provision of transitional housing. Anas Aljbain, architect: Anas joined UNHCR in June 2013 as a shelter associate, working on different aspects of shelter activities/strategies in the L3 operation in Syria. "Providing cheap architecture for poor people has always been my dream," says Anas. Aljbain@unhcr.org
About BIMES
GRAPHISOFT's regional partner, BIMES, is a one-stop BIM provider, through their three principal offices in Dubai, Cairo, and Alexandria. Established in 2008, BIMES is a leader in the BIM market in the MENA region, providing software, training, implementation and services to major developers, consultancies, government bodies and contractors.